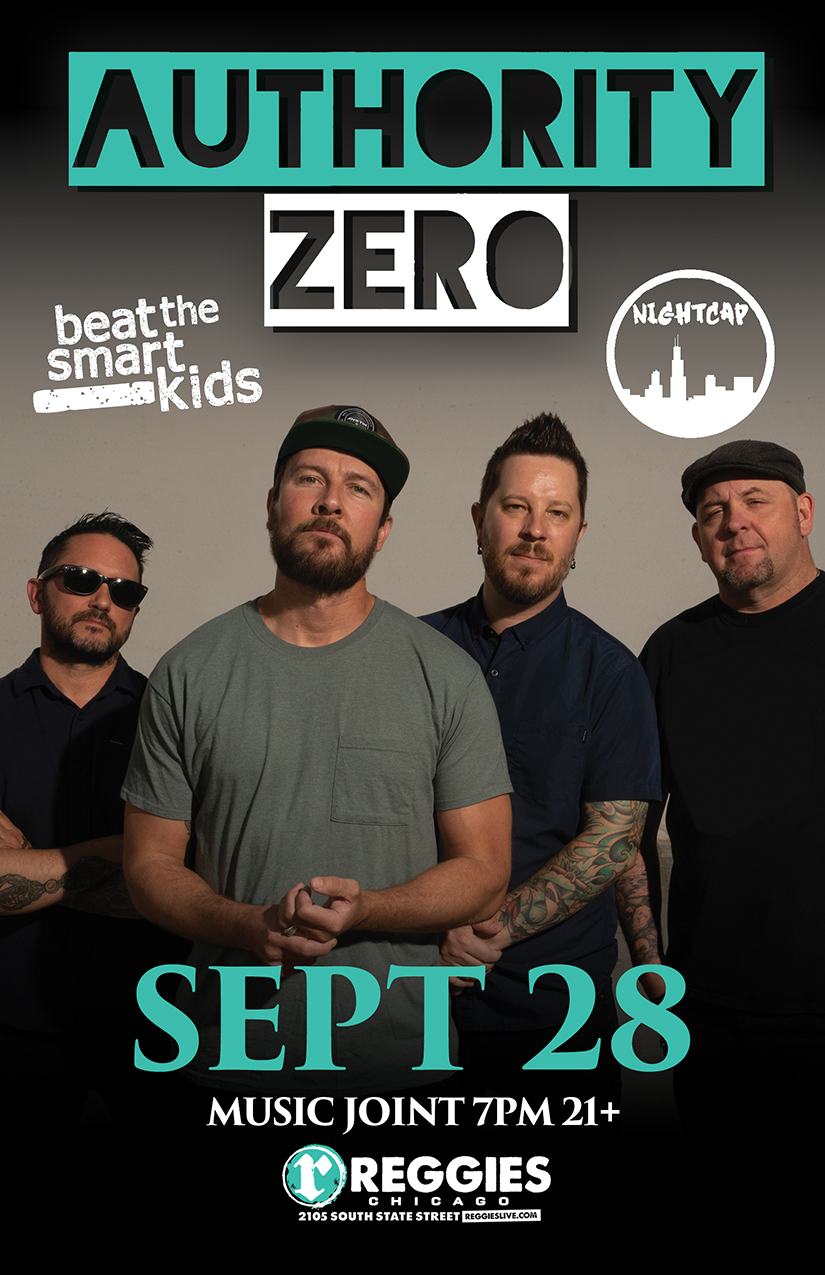 AUTHORITY ZERO
Since '94 Authority Zero has brought their unique signature blend of anthemic melodic-punk and reggae to the masses. A lot has changed in the 20 plus years since the band got their start and they've found a way to persist and thrive in today's ever-changing music world. "It's been a long trek," says Jason Devore (singer and longest running member of the band) as he recollected on the band's past. The band was formed in the mid 90's in Mesa, AZ by a group of high school friends with ample ambition but no lofty expectations. After a few years, they refined and established their sound: a mix of SoCal punk with reggae and ska tendencies. With the release of their debut album A Passage in Time (2002, Lava Records), the band's career gained momentum quickly and they've since spent their fair share of time on the road, having toured extensively with such acts as Pennywise, Sum 41, Flogging Molly and many more. In recent years Authority Zero has gained momentum internationally, spending time on the European festival circuit as well as stints in Japan, Australia and even Russia. They've released a total of 5 full length studio albums (most having seen spots on Billboard's Heatseekers Chart), and their music has been featured in numerous video games, tv shows and movie soundtracks throughout the years. The band's many successes have been accompanied by a few bumps in the road (as to be expected for any group that's been around over two decades) including a slew of line-up changes, music industry letdowns, and most recently having their van, trailer and equipment stolen while on tour in Texas. Their secret to the longevity is simple: keep it pure and believe in your music.
Now, 23 years since the band's inception, the future remains as bright as ever for Authority Zero, consisting of singer Jason DeVore, bassist Mike Spero, guitarist Dan Aid and drummer Chris Dalley (also in Pulley and Implants). Eager to move forward, the inspired new line-up started working on a batch of songs that will become the band's sixth full-length record. "We'd gone through a couple members during the writing process the last few years, so we've kind of written this record twice. We had about 12 or 13 songs put together, a couple of the guys took off and we kind of had to start from scratch with what we did have from songs I had or Mike [Spero, bassist] had written, and build off of that," says DeVore. They did their homework before rushing in to record the new tunes. "We really did honestly have more pre-production and a grasp on what the songs were going to sound like before we went in [to the studio] in a long time. This time things were really well put together," says DeVore.
The band entered Fort Collins, Colorado's legendary The Blasting Room Studio (Rise Against, Descendents, NOFX) in December of 2016 to start work on yet-to-be-named new album with producer/iconic punk drummer Bill Stevenson (of Black Flag/Descendents fame) at the helm. The process was unique: the whole Blasting room team (Stevenson, Andrew Berlin and Jason Livermore) worked on the record cooperatively, resulting in a highly efficient synergy they've developed though years of refinement. DeVore describes the process: "It was really cool. It was like a one stop shop where they are consistently working on the record in 5 different rooms. When one piece is done with the drums, it moves on to editing. While that's happening you are working on the bass guitar or the guitars and getting all those tracks done with Andrew. It just keeps on moving around and around in a big circle to keep the process moving. They've got their formula and it's works really well." The band also stayed at the studio for the three and a half weeks during these marathon recording sessions. DeVore fondly reminisced on the process: "It became like the bat-cave 'cause you didn't really know what day it was, or what time it was or anything 'cause you'd go out in the morning first thing and the next time you went out it was dark again. It was cool in that regard but it also messed with your head a lot. It was a brilliant process; we had such a good time out there. Bill would be there tracking vocals with me for 13 hours straight and he'd stick around and drink beers with me after in the kitchen and just tell stories, ya know? It was pretty cool, man … and a different experience than I've ever had." Stevenson enjoyed working with the band as well: "Authority Zero proved to be a perfect fit with The Blasting Room. They showed up with great songs and we had the very best of times hanging out together — and just as much fun sharing our creative perspectives during the arrangement and recording process, all of which resulted in a really cool record."
DeVore describes the direction of the new material: "It's really going to be an exciting album. It's a combination I think of The Tipping Point [released in 2013] meets the first album A Passage in Time. It's really taking a step back to take a step forward — in the sense that you get a little more of what you feel like a lot of the kids that have been around for a long time have been missing out on a little bit, I think. There's also some stuff on there that some people won't have heard before I think as well … they'll be like 'that's what band again?' There's a couple of surprises on there too that might throw people back a little bit — but in an exciting way. I'm pretty excited man. We've done about 15 tracks and we're debating if we are going to use all 15 or hold off on a couple for bonus tracks." The band shared an advance mix of the new record with longtime friend Jim Lindberg (singer of Pennywise) who liked what he heard: "Authority Zero are a great American band. They bring it every night they play and on every album, and this one is no different. It's melodic hardcore at it's best. Authority Zero bring it. Always."
The new album will be released via Jacksonville, Florida's Bird Attack Records, who is quickly developing an extensive roster of both up-and-coming and established acts in the skate/melodic punk genre — a perfect fit for Authority Zero. "I talked to [Bird Attack] a little bit at Music for Cancer in northeast Canada, they had some stuff going on there. Our biggest conversation was really out in Europe. We did some interview stuff with them and spoke a bit about the possibility of working together. As time went on and as the record started coming together, they stayed in contact and seemed somewhat more adamant than any other options that were coming about. They were excited to work with us as a band, and to me that's the main thing you want to hear from anyone who's a label these days — that they're actually excited to put out the record and and care about it as much as you do. They showed a real desire to help us out, do the best they can with the record as far as the push goes, and get it out to the most people they can. That was a real exciting thing and it was always a thing we turned back to," says Devore.
Authority Zero and Bird Attack are aiming for a summer 2017 release for the upcoming album that will be shortly followed by a full US tour, the first for the band in a while. Subsequent international touring is being planned as well to support the new album for Europe, Japan and possibly South Africa. DeVore is looking forward to it all: "It's hard to say what's going to happen or come up but hopefully all sorts of fun things."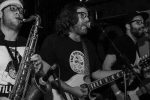 BEAT THE SMART KIDS
Beat The Smart Kids is the product of local Chicago ska and punk veterans banding together to give you that ska punk and other junk sound.
With former and current members of Waste Basket, The Indecisives, Still Alive, and The Damn Tracks you can be sure to find catchy horn riffs, gravely vocals, and a driving punk sensibility.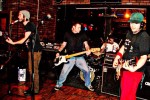 NIGHTCAP
The south side of Chicago is pretty rough, especially Blue Island. It reeks of drunks, gun powder, crime, exhaust, and weed. For the sake of not confusing the reader, Chicago pedigrees NIGHTCAP wouldn't have it any other way. When not making runs to Miska's Liquor Emporium and the infamous Harold's Chicken Shack, these Blue Island locals are sawing through their set all over the Midwest.