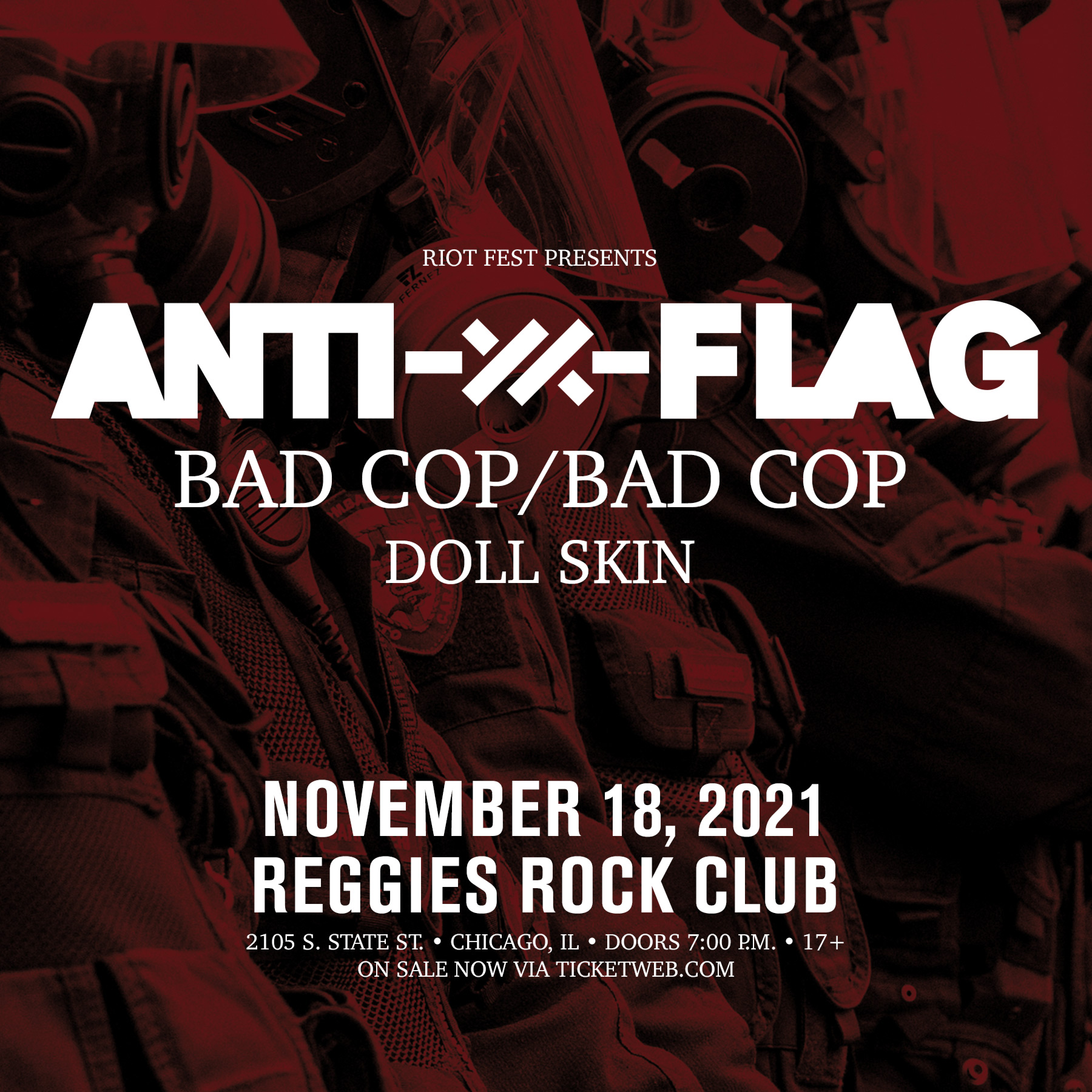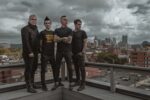 ANTI-FLAG
Anti-Flag is a political punk band, which is obvious from their name alone. But over the course of 12 albums across more than 25 years together, they've rarely set their sights on singular individuals in songs. Unlike their punk predecessors in the 80s, who made targets of Reagan and his cronies, Anti-Flag has always opted not to date their work with current references, instead focusing on fighting ongoing oppression and dismantling deeply rooted systems of injustice. But on their new album, 20/20 Vision, the band is drawing a big, fat line in the sand.
"We have actively chosen to not attack Presidents directly, either with album art or songs about certain times in history, because we recognize that the issues we're dealing with are cyclical," says bassist Chris #2. "But this record in particular, we kind of said, well fuck that, we need to be on the record in opposition to the policies of Donald Trump and Mike Pence."
"This record is a warning to people holding neofascist ideas or people who are enabling these types of positions, whether you're outright racist or you're enabling racism or sexism or homophobia or transphobia," adds guitarist Justin Sane. "You need to make a choice at this point. What we've seen with this White House is that there's no grey area anymore."
Produced by From First to Last's Matt Good, 20/20 Vision (Spinefarm Records, January 17, 2020) kicks off with a soundbite of Donald Trump speaking at a rally. And while just about anything the man has said over the last few years would make for a fitting sample on a punk record, Anti-Flag were deliberate in their choice. "In the good old days, this doesn't happen, because they used to treat them very, very rough," Trump is heard saying over the opening track, "Hate Conquers All." "And when they protested once, they would not do it again so easily."
"What I found compelling about that particular Trump sample is that it's the quintessential move that he pulls, which is: Say the thing into the world early, so that when it happens later, people are already accustomed to it," says #2, who believes that dissenters like journalists, protestors, and punk bands are not far down on the list of those who will eventually be rounded up and detained. "We've always cautioned that if you're not standing up for the most marginalized and the most oppressed then you're not truly free."
"Hate Conquers All" seeks to dissect the lexicon we use around racism to hold ourselves more accountable. "The song is a kneejerk reaction to the idea of Love Trumps Hate and this idea that love can beat back
hatred," notes #2. "That equates racism with hatred. That's a false equivalence of what the language should be. If you're racist, you're racist. You don't just hate people. It should be considered a much more vile term."
Later on the album, "Christian Nationalist" calls out those hiding behind religious zealotry to mask their neofacism, and the chorus makes it clear that these people will be held accountable: "We all know who you are!"
"When you listen to David Duke talk, you're listening to Donald Trump talk," Sane says of the track. "These people hide behind the veneer of suits or speaking well and the various ways in which they hide their bigotry, but the reality is that they're just as bad as the fascists in the 1930s or the segregationists in America.
"I'm not saying doxxing is OK, but I think it is important to let a community know that their neighbor is a racist who was chanting, 'Jews will not replace us! There has to be accountability."
On 20/20 Vision's title track, the band takes a deliberately poppy approach to grappling with a tough pill they've had to swallow recently: Seeing elements of the framework that punk bands like Anti-Flag have established over the last couple of decades as it is coopted and used as talking points by the alt-right.
"The roadmap that we created in the 90s, of alternative media and forms of communicating, was a left-wing strategy to bring truth to power," says drummer Pat Thetic. "The right wing has very effectively taken all those skills we learned in the 80s and 90s and turned them against the left. That's been a challenging thing for us, to see the strategies that we grew up with being used against us in such an effective way."
And while the newscycle moves faster than ever before, 20/20 Vision aims to take a step back and stare down the most pressing problems of our time: kids in cages, the fentanyl crisis, rolling back EPA restrictions. It's a record that at once feels both timely and forward thinking. 20/20 Vision is a work that Anti-Flag hopes will serve as an immediate form of communication with those who are politically engaged as well as a document of our modern times for a future generation.
As #2 puts it: "We hope that when someone trips over this record in the sand of the post apocalypse, they'll know that there were people who once stood in opposition to all of this."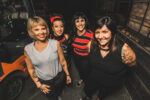 BAD COP / BAD COP
It's been a hectic couple of years since Los Angeles punk quartet Bad Cop/Bad Cop dropped their debut full-length, Not Sorry. The band spent a huge chunk of the intervening time on the road, like most bands do—and they wound up discovering some ugly things about themselves, like most bands do. Only for Bad Cop/Bad Cop, it got very serious, very quickly. "We were on the Fat Wreck Chords 25th anniversary tour in 2015, and Stacey was partying really hard," says co-vocalist Jennie Cotterill. "She ended up bottoming out on the tour, and we had to leave. It was not a good separation. We had to go home and drop off the tour and figure out if we were still a band, what are we going to do about Stacey… Thankfully, Fat helped send her to detox, and she came out of that as a completely new person with a totally different trajectory. Before that, she was demonically possessed. She was destroying everything around her." Out of that experience came "Amputations," one of the highlights on Bad Cop/Bad Cop's explosive second album, Warriors. The song is a slower, bigger sing-along than anything else in the band's growing catalog, and it's about the only thing not at a breakneck pace on the record.
Many of the album's most cathartic, aggressive moments come from the mind of co-vocalist Stacey Dee, who after going through the darkest time of her life has come out stronger than ever. Instead of focusing solely on her own issues, she was able to expand her horizons, writing songs as poignant as "Victoria" (about a friend's child who committed suicide) and "Womanarchist" (in which Dee namedrops Revolutionary War heroine Nancy Morgan Hart and Joan of Arc while proclaiming she wants "to make the whole world feminist"). Dee explains much of her expanded worldview came in the wake of the 2016 presidential election, making Warriors one of the first punk albums written in the Trump era.
"The election made a real big impact on us," Dee says. "We were really hurt and really sad. It felt like we needed to take a stand and say something. I had never really dug into anything super-serious about fairness, equality or justice in my songwriting before. When my bandmates and I got a chance to rebuild together following my fall, it was all about honesty, celebrating our differences and letting our power come together naturally." The foursome began recording immediately following a successful tour with the Interrupters last fall, spending roughly six weeks between Hurley Studios and Maple Sound Studios with their longtime collaborator and producer Davey Warsop between December 2016 and February 2017, with Jason Livermore (Descendents, Lagwagon) responsible for mixing and mastering—and just like on Not Sorry, Fat Wreck Chords founder Fat Mike chimed in with plenty of ideas as well.
"When it comes to songwriting, I'm open to anyone offering ideas—I think that makes it cooler. I'm all about what sounds best. Mike had really great ideas—most of the time, I agreed with him," Dee says with a laugh. That songwriting invitation extended within the band, too, as bassist Linh Le contributed two of Warriors' finest moments, "I'm Done" and the title track. The former tackles the topic of gender-related microaggressions ("I felt instead of being passive-aggressive about it, I was just going to be aggressive," Le says); the latter was written to pay homage to all who have devoted their lives to fight for equality and was inspired by the Trưng sisters, who led Vietnam's rebellion against China nearly 2,000 years ago. Needless to say, there is more to Bad Cop/Bad Cop than your average punk band—and that's how the women like it. "It is important to raise awareness," Le says. "There are so many people we care about who feel stuck or afraid."
"We tend to stick up for the underdog," Dee concludes. "It hurts us when anyone is marginalized. I was so negative for most of my life. After changing my life, I have been trying to focus on strength, connectedness and positivity. I think this record is a good start."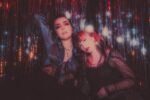 DOLL SKIN
Two desert rats from Phoenix, Arizona, touring the world since the age of 13 alongside acts such as Creeper, Trash Boat and New Found Glory with total world domination top on their agenda. From Warped Tour to Slam Dunk, Doll Skin have been recruiting fans to the Rat Pack with their genre-fluid rebellion all across the map.
Since releasing their debut album 'Love Is Dead And We Killed Her' under Hopeless Records the duo look to the future, Doll Skin look to the future with new single 'Control Freak'; a reflection of the dark times faced in 2020 and noticeable developed sound from the band, a middle finger to assumptions of who they are or who people want them to be.
With the battlefields of their teenage years now in the rear view mirror, Doll Skin are taking the Rat Pack on a new mission: To define what rebellion means to them now.
RAT PACK FOREVER.