The Loca Show
The Loca Show will feature the top, hilarious Latina comedians from across the country. These comics are un poquito crazy in their own way and have been killing audiences with laughter. These comedians have been seen at Laugh Factory, Zanies, LOL Improv, Carolines, and other top comedy clubs across the USA. Don't miss your chance to see these locas as they're in town for one weekend only!
Las Locas Comedy
For more info about the 2nd Annual Latina Comedy Festival, follow us on social media @latinacomedyfestival or 
latinacomedyfestival.com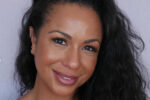 ANDRAIAH LUGO
(Pico Rivera, CA)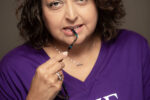 ANIRIA TURNEY
(Atlanta, GA)
As the daughter of a Puerto Rican mom and a Salvadoran dad living in the South, Aniria lives the "Cultural Bermuda Triangle" daily!  Having moved here from El Salvador at the age of 6, the culture shock and the pleasing of 3 cultural expectations lingers in her witty observations. 
Because she started her passion for stand up later in life, it quickly became therapy that helped her get through a divorce and juggling a new dating life with raising kids.  Now remarried, her repertoire has expanded.
Her comedy expresses the "in your face" truths about cultural differences, dating, kids, sex and how men and women relate.  
Aside from stand up, Aniria is also an actor. She got her first break in the Netflix film "Naked" with Marlon Wayans. Other TV credits include NBC's Chicago Med and Hulu's The Act with Patricia Arquette.  She was also voted Tampa Bay's 2017 Best Up and Coming Comic by Creative Loafing and she performed at the 2019 Burbank Comedy Festival.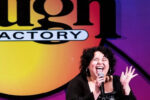 CHRISTINA GUTIERREZ
(Chicago, IL)
writer 🇲🇽 comedian 🫀 londoner 💷 ft baddie💅🏼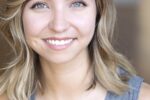 COURTNEY ZELAZNY
(Chicago, IL)
I was an English major in college, but don't worry, my parents are still very proud of me.
The common thread through my work has been my love of storytelling, whether that be by managing social media for a brand, performing stand-up comedy, or through my writing.
I have learned and performed in Florida, Washington, D.C. and Connecticut, and if not for COVID-19, Chicago and New York City, too. You can check out my current work on my podcast, The Witty Committee.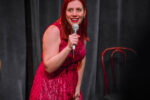 ELIANA LA CASA
(Chicago, IL via Argentina)
Eliana La Casa is a bilingual Argentinean stand up comedian. She has been featured on Comedy Central Latinoamerica, as well as BBC Radio 4 London's international live show "Welcome to Wherever You Are". In Argentina, she performed at Festivals like Cuidad Emergente and Manso Comedy Fest as well as in local TV shows such as "Tipos de Minas". Since moving to Chicago, she took part of Chicago Women's Funny Festival, World Comedy Expo and Latina Comedy Festival.  As a comedian she has toured Argentina, Chile, Uruguay,  Mexico and USA, where she was voted Best Stand Up Comedian of 2021 according to the Chicago Reader.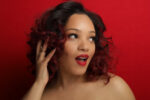 GLORELYS MORA
(New York, NY)
Glorelys "Glory" Mora is a New York-based stand-up comedian, writer and producer. She was born on June 15th, 1990 in New York City and grew up in between the worlds of Harlem and Washington Heights, raised by parents that immigrated from the Dominican Republic. The content for her comedy is pulled directly from interactions she has had with nepotism, racism and micro-aggressions throughout life and while working in the advertising industry. Additionally, she loves to discuss her observations of white privilege, the cis female experiences and social injustices in a 'pretty' digestible way for audiences to reflect upon after deep laughter. She is pretty funny.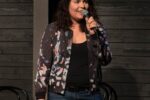 JANICE RODRIGUEZ
(Chicago, IL)
Janice Rodriguez (first name rhymes with Denise because she likes to be difficult), is a Chicago-based entrepreneur and comedian. When she's not slaving over an unnecessary spreadsheet or micromanaging others, she performs her unique brand of stand up across the Chicagoland area.  Janice uses her experience as being the whitest Latina she knows and an at best average marriage partner to tell her side of the story. Janice aims to bring a fresh perspective to topics related to her culture, Indiana upbringing (Indiana+culture=oxymoron), and her professional and personal lives. She's also really tired.
Janice regularly performs at Chicago area comedy and storytelling showcases and has performed at comedy clubs Zanies, Improv, The Drop (South Bend), Laugh Factory, Comedy Vault, Comedy Bar Dubuque, LOL Comedy Club (San Antonio) Comedy Shrine, The Market Lounge,  and Jackie Knights (St. Augustine, FL). She has also been invited to perform at several comedy festivals such as Chicago Women's Funny Festival, SheDot (Toronto), Lady Laughs (Madison) and LaughFest (Grand Rapids).
Janice is a founder and producer of  Las Locas Comedy, a comedy showcase that features Latina/Latinx comedic talent and our favorite locas of any background.   Check out her performance calendar to see her at an upcoming show!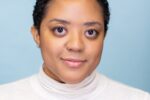 JILLIAN EBANKS
(Chicago, IL)
JILLIAN EBANKS (Ensemble; pronouns: She/Her/Hers) is thrilled to be a member of The Second City National Touring Company. An artist originally from New Jersey, she was awarded the 2018 NBC Bob Curry Fellowship.  Past shows include America; It's Complicated! at The John F. Kennedy Center for the Performing Arts and The Black History Month Show.  She is the co-creator and co-producer of B.A.P.S Comedy. With a degree in sociology she refuses to use, Ebanks hopes all her hard work pays off one day when Ben & Jerry's asks her to create her very own ice cream flavor. Also, like, an invitation to the Met Gala would be cool. Follow her at @Curlyhairnocare for pictures with hella filters. She is currently represented by Grossman & Jack Talent.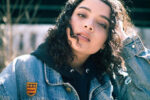 MICHELLADONNA
(New York, NY)
Michelladonna is an actress, comedian, producer and community organizer from Queens, NY.  She is the creator and host of the I'm Finna Talk (@imfinnatalknyc) workshop/open mic series, which provides free events for Queer Black and Brown creatives in NYC. She is passionate about comedy, art creation and community. She is a student of HB Studio, the Magnet Theater, the Second City, the PIT and an alumna of the MCC Theater Youth Company.  In the Summer of 2022, she received the PIT x SNL Scholarship which provides classes and  industry showcases. She has also been featured on the HBO series Game Theory with Bomani Jones in Spring 2022. Michelladonna received the 2021 City Artist Corps Grant for "I'm Finna Talk", making sure to  re-invest into the arts and the community.  She is focused on sharing her communities' unique experiences with the world.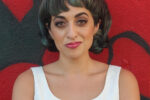 NATASHA SAMRENY
(Providence, RI)
Natasha Samreny is a multicultural military brat who traded in Mormon seminary for solo book clubs at the bar.
Raised by recovering Catholics from different sides of the world, she aligns with anyone who treats garlic as a primary food group.
Samreny got her storytelling start in radio and her sweet codependent nature from too much church in her formative years.
The sexiest thing about Samreny is her cat. She trained at The Second City theatre in Chicago and has performed improv, sketch, and stand-up comedy internationally, including Edinburgh and Camden's fringe festivals.
Stateside, she's been seen at The Improv, Zanies, Boston Comedy Arts Festival, NYC Sketchfest, and all of your favorite storytelling festivals — if you had favorite storytelling festivals.
In short, if you're wondering where she's from, please keep guessing. It's Natasha's favorite game.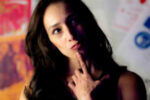 SOLI SANTOS
(Chicago, IL)
Soli Santos, writer, actor, comedian, and native Chicagoan, began her comedy career as a student and graduate of The Second City and i.O. She has shared the stage with comedy heavyweights Cameron Esposito and Manny Maldonado and has featured at Zanies, The Improv and The Laugh Factory. Soli was excited to be a cast member of Urban Theater Company's play, Not For Sale, which was nominated for the prestigious Jefferson Award. She has also been cast in a number of webseries, The Haven, The Open Mic, as well as, on various sketches with The Onion. She has written and performed at Second City's Mary Scruggs Women's Sketch Fest and is a former co-producer of Las Locas Comedy. She has also co-written and co-produced a sketch show with her second sketch group, Minority Rules, which were featured on WGN. You can check her out in the Amazon Prime comedy, Enter the Mollusk.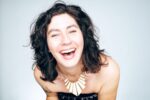 VENESSA PERUDA
(Brooklyn, NY)
Venessa is a Colombian-American comedy writer and performer from So. California now based in NYC. She has over 10 years of experience writing, performing, and producing comedy. Venessa is emeritus NY Chapter President of Women in Comedy Org. A StandUp NBC Finalist. Director of 'FOUL' the web series. Her work has been accepted into The World Series of Comedy (Boston), The Chicago Comedy Film Festival, Cape Fear Comedy Festival, Brooklyn Comedy Festival, Red Hook Film Festival, Manhattan Int'l Film Fest, and Beverly Hills New Media Fest. She has play writing experience and acting training from a BA in Theater from UCSD. She has studied improv and sketch writing at the Upright Citizens Brigade (LA and NY). She writes and produces content for social media and the comedy festival circuit, as well as performs stand up all over NYC. In addition to hosting and producing a weekly standup show in downtown Brooklyn, she's now touring with the Hilarious Colombian Americans all over the U.S.