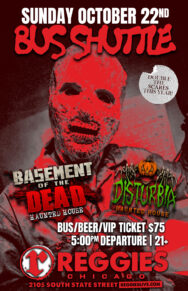 Reggies Annual Haunted House Trip
Join the Reggies crew on our annual Haunted House Trip!
Double the scares this year!
This year we're going to Basement of the Dead and Disturbia. Our $ ticket package includes VIP tickets for 2 separate haunts plus beer on the bus, and round trip bus from Reggies! Just VIP TIX BOUGHT FOR BOTH WOULD BE $80. The Reggies group package for all of it is 75 bucks.
Meet at Reggies at 4:30pm to start the party and get your admission ticket. Bus leaves at 5:00pm.
Possible stop after for Jason Kane at live wire!