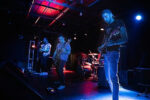 YOUNG DETECTIVES
Chicago-based indie alternative rock band Young Detectives draws influence from artists like Franz Ferdinand, Interpol, The Killers, and Modest Mouse. 
 Longtime friends Stephen (drums) and Christopher (vocals/guitar) began sharing songs and collaborating during the COVID-19 pandemic in early 2020. The group went on to release two singles that year 'One More Time' and 'In Your Roots'. In late 2020, the group added both Bart (bass) and Ben (guitar). The four released their debut EP 'come & say goodnight' in the summer of 2021.
The group has been releasing a number of singles to kick off 2022.