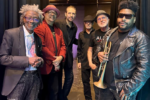 WINDY CITY JAZZ ELECTRIC
The WINDY CITY JAZZ ELECTRIC is a group of musicians merging to form a new force in Modern Jazz. Each member has established themselves on the world stage as groundbreaking innovators and consummate professionals. They have worked with the finest Jazz musicians of this era. Bringing them together in one ensemble is an undertaking that opens the door to amazing, revolutionary music.
The excitement that is created onstage is palpable and profound.
Frank Russell         Bass
Robert Irving III      Piano and Keyboards
Paul Wertico           Drums
Steve Eisen            Saxophones and Flute
Jose Rendon          Percussion
Corey Wilkes          Trumpet