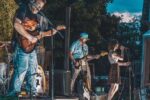 WHT.RBBT.OBJ
Bluesy, Smoky, Sexy, and Raw. wht.rbbt.obj ("White Rabbit Object") is a "femme fatale" fronted, guitar driven alternative rock outfit from Chicago, Illinois. What started as a secret side project for a married couple, Frank & River Rabbitte, wht.rbbt.obj has grown into a four piece musical tour de force.
James Van Osdol of "Car Con Carne" described them as "Amy Winehouse meets The Black Keys and challenges them to a game of strip poker." NPR's Greg Kot of "Sound Opinions" in describing their first single "Jolene's Reply," said, "This song swings like a wrecking ball . . . Heavily distorted roadhouse raunch . . . The dirtiest groove I've heard in a long time." And UpToHear Music recently wrote about their latest single, "wht.rbbt.obj will blow everything you own out of Earth's orbit . . . We have never been more excited to share something with the world. Does it sound like PJ Harvey on steroids? Is this some long lost relative of Amy Winehouse or some already-famous band who is just f'ing with us . . . ? We don't know!"
In June of 2022, wht.rbt.obj was selected to perform at The Richmond International Film & Music Festival where they were awarded the "Critics Choice Award for Music and Performance." In November of 2022, their newest single, "Once More Down The Rabbit Hole" won a songwriting award from USA Songwriting Competition.
wht.rbbt.obj invites you to follow them down the rabbit hole, to peek behind the curtain, and peer through the looking glass. And if you happen to know any of the players, they would ask you to keep this our little secret.