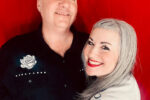 WHITE ROSE MOTOR OIL
White Rose Motor Oil, a two-piece woman fronted Alt-Country / Garage Country / Cow-Punk band from Denver, CO features married couple Eryn DeSomer (guitars and vocals) and Keith Hoerig-DeSomer (drums).
2023 will see them releasing a new full length album, "The Gift Of Poison", their most ambitious recording to date. Response to the songs from this release in a live setting have been extremely enthusiastic.  Confirmed 2023 festival dates include lineups with Meat Puppets, Sunny War, Murder By Death, The Last Gang, Vandoliers, Joshua Ray Walker, and more!
Eryn and Keith have been active in the Denver music scene for over 15 years, previously as members of The Hollyfelds and The Jekylls. In 2018, they formed White Rose Motor Oil and released their first EP, "Suburban Horses," followed by the release of their second EP, "One For The Ages," in 2019. The full length album "You Can't Kill Ghosts" was released in 2020, as was the EP "Broken Heart Holiday". "Country Pop", their album of cover songs originally recorded in the 60s and 70s, was released in 2021, which was followed up by the EP "Oh Lucretia" in fall of 2022.
Together Eryn and Keith have:
– Had music featured on many TV shows, including NBC's "The Voice" and The History Channel's "American Pickers".
– Performed hundreds of shows in numerous states. Club dates and festival bills have included: William Clark Green, The Bones Of J.R. Jones, Volk, Old 97's, Vandoliers, Jaime Wyatt, Nikki Lane, Houndmouth, The Cactus Blossoms, Whitney Rose, Turnpike Troubadours, Mike and The Moonpies, Shane Smith and The Saints, Jenny Don't and The Spurs, The Hooten Hallers, Shannon Shaw and many others.
– Eryn has performed with the Colorado Symphony Orchestra on a project that included Nathaniel Rateliff.
– Won five Westword Music Showcase awards in the country category, as well as winning a "Best Of Denver" award from that same publication for "Best Band Playing Country The Way It Was Meant To Be Played".
– Released over five full length albums worth of original recorded material, kept four cacti alive for over three years, and have given a good home to two of the number one dogs of all time.