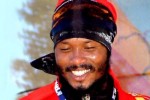 WARRIOR KING
Like a bolt of lightning from the sky, Rasta messenger Warrior King has burst upon the scene, utilizing his gift of song to spread Jah truth throughout the land.Warrior King was born on the 27th of July, 1979, in Kingston's Jubilee Hospital, soon moving to Clarendon, then settling in the growing city of Portmore at age eleven. "From birth I've always loved music, but it was not until I attended high school at the age of thirteen that I thought about it as something I could do myself," Warrior King explains. "At that time I followed Bounty Killer's style, but then my friend Warrior Mark, him said, 'You have the potential. You have the talent.' From there I started increasing my own thing, and with encouragement from my peers and inspiration and t'ing, the music started to flow."
Like many successful Jamaican entertainers, Warrior King gained his earliest stage experience in talent shows. "I started out with school concerts at first," he says. "At the time when I just came inna music, I used to do some combinations with a yout' named Likkle Blacks, Marlon Stewart. We used to do Tastee's Talent Show together, so we could really start getting exposed and gain experience." When he first started out Warrior King chatted in a hardcore deejay style, like his original hero, Bounty. A switch to the more holistic "singjay" sound came gradually. "It's a natural thing what just grow inside of me, even without me realizing," the singer reasons. "People started telling me they hear I can sing now. So, really and truly it's just a natural change." Even his name is an extension of this evolution. "I changed my name from 'Junior King' to 'Warrior King' because it have a more spiritual feel to it. Fighting against oppression, fighting against wrong. I'm Jah warrior, yuh know, fighting a war of rootical love.
Warrior King's 2001 debut single, "Virtuous Woman," was an international smash, its righteous lyrics prompting the Jamaica Observer to declare the singer "one of the artistes who made a difference in 2001." Since that auspicious beginning, Warrior King's compositions have consistently charted not only in his native Jamaica, but throughout the entire Caribbean, as well as New York, London, Tokyo and beyond. "A Friend Indeed" is currently getting heavy rotation in Jamaica, while "Jah Is Always There" was a recent summer smash on Atlanta's More Fire chart. The inclusion of "Never Go Where Pagans Go" on VP Records' compilation set "Reggae Gold 2002" further raised the artist's profile. Also included are "Virtuous Woman," "Never Go Where the Pagans Go" and other compositions that have built Warrior King's reputation.
Now the conscious singer has released his first full-length album. His VP Records debut, Virtuous Woman, features production by such heavy hitters as Sheldon 'Calibud' Stewart, Richard "Chabano" Brown, Lion Paw and Penthouse as well as guest appearances by Jahmali and dub poet, DYCR. With titles like "Love Jah and Live" and "Boast Not Myself," the CD's seventeen tracks are designed, says Warrior King, to "uplift people's heart, mind and soul in a positive way. All of the songs are written by me, through inspiration of the Father. Everybody can relate to a song on the album, I'm sure of that." The album opens up with "Power To Chant," a spiritual invocation of Jah that neatly sets the tone for what's to follow. Each song featured on the cd has a different style, but the message emphasizes purity and truth.
Warrior King believes that education is the key to betterment and hopes that his music will serve to convey the teachings of His Imperial Majesty, Hailie Selassie I. "As a Rastafarian you just don't sing music, you sing music with a purpose and a mission. To the four corners of the Earth," says Warrior King, "I carry my music, and the message of the King. And the message of love, to all people of all races."
Photo & text courtesy of VP Records-Walboomers Music.