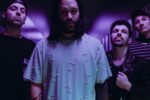 VRSTY
Sure, it's easy to believe everything has been done before. VRSTY (Var-Si-Ty) prove it hasn't. The New York City quartet—Joey Varela [vocals], Javy Dorrejo [bass], Chris Cody [drums], and Paul Gregory [guitar]—layer R&B vocal styles over heavy metallic grooves and chugging riffage. After posting up over 2 million streams and charting Billboard with their independent releases, the group crafted a unique and unexpected hybrid on their 2020 debut EP for Spinefarm Records, Cloud City.
Fueled by the success of Cloud City – which saw hit singles Massive & Shameless rack up over a million streams each in under a year – VRSTY will release their label debut full-length WELCOME HOME on January 21, 2022.
"When people ask me what we sound like, I say, 'We're whatever you want us to be'," states Joey. "I can't put a genre on us, because I'm a pop and R&B singer who loves metal. There are pop tracks, metal tracks, and R&B tracks. It's super different heavy music with pop-inspired vocals. The genre has enough bands who sound similar. If you spend time trying to do what's popular, you fall into a mode. That's not something we're interested in. The music has to be fun for us and the people listening to it."
In the end, VRSTY break all of the rules and ultimately break ground.