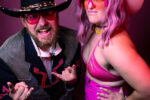 VOLK
Small in size yet big in sound, VOLK is Chris Lowe (electric guitar, vocals) and Eleot Reich (drums, lead vocals). Together they kick out a high-octane show combining politics, poetry, and pageantry. Cashville, is their first full-length release and the first to capture the full range of their cinematic style. 
VOLK's music comes from an honest, authentic, and even vulnerable place; genre is tossed aside to allow the songs to be what they want to be. Messier, glitzier, and more punk than your average country band, VOLK is loud suits and loud amps, shiny dresses and shiny drum sets, growling tones and thunderous beats, East Texas and California, Nashville and Berlin. As Ray Wylie Hubbard put it, "if I'm ever short on attitude and badassedness . . . I know where to find some." 
 Since settling down in Nashville, VOLK has opened for such acts as The Dead South, Electric Six, Charley Crockett, Nekromantix, Supersuckers, and The Delta Bombers, to name a few.