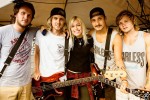 TONIGHT ALIVE
It's an unlikely tale. Rising from the fevered hotbed of Sydney, Australia's underground hardcore scene, boy meets girl. Or rather, two boys meet girl to make kick-ass rock music.
Try to keep up – the story goes something like this…
Guitarist Whakaio Taahi and his compadre bass player, Cameron Adler, needed a frontman for a rock project. Scrap that. Frontwoman. Enter ingenue-with-attitude, Jenna McDougall – as soon as the sixteen-year-old songstress' soaring contralto and sweet strains took the mic to their songs, something clicked. Already onboard, rhythm axeman Jake Hardy and new recruit, drummer Matt Best – a childhood buddy of Whakaio's. One jam later, the writing was on the wall. Tonight Alive were up and running, pedal to the metal.
The band stepped up, and fast. Songs honed, stagecraft already a dead cert, they entered Sydney's subterranean circuit of metalcore and heavy bands, playing their own brand of catchy-as-all-hell pop-punk… and promptly took the scene by storm, developing a rabid young fanbase in thrall to the band's ebullient, fist-pumping anthemery, arena-sized hooks and high-voltage live performances. Right from word-go, it was clear Tonight Alive were going somewhere.
A year on, courted by labels and management secured, with two stellar EPs ('All Shapes & Disguises' and 'Consider This') under their belts, a demo of Tonight Alive's new material landed on producer-extraordinaire Mark Trombino's (Blink 182, Jimmy Eat World, The Starting Line) desk. He rang the band immediately, wanting in.
"For him to contact us, and say he was interested, was a big deal," says Jenna, now 19. "We couldn't believe he'd put himself out like that. He's amazing. Mark created the albums we all grew up listening to – the albums that launched the careers of all these great bands.
Whakaio weighs in. "Yeah, it felt right that he do our first album, that he be the one to kick-start us off. As soon as we got over there, we found Mark felt the same."
Recorded at LA's infamous NRG Studios over two months, Trombino's personal interest in the project played out in other fortuitous ways. "Nothing was left to editing or over Pro-Tooling," notes Whakaio. "Jenna sang every line until it was right. I played every guitar part. The drum sound is natural and not heavily sampled. There was no copy-pasting. That was really important to us, as well as Mark. That it sound real. Natural."
"It was great because it made us really step up as musicians," says Jenna. "I know I definitely came back from the experience a better singer."
What you're listening to now is the inspired result of that auspicious partnership between a bunch of Aussie kids and an auteur with a canon of classic records already to his name. What Are You So Scared Of? is one more album to add to that list.