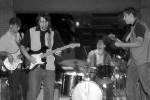 THE REAL GONE
A revival of the West Coast sounds from the '50s and '60s is happening right now in the Midwest! The Real Gone travels through space and time to rock the classic music of The Ventures, Dick Dale, The Shadows and many more. You'll need a surfboard to ride the good vibrations of a live performance.
The musicians of The Real Gone are seasoned players with experience in a myriad of genres. Phil and Bret have been band mates for years. They have opened up for such artists as Clint Black, Drive-By-Truckers, Melvin Sparks, Fareed Haque, Caitlin Carey (Whiskeytown) & Thad Cocrell, Devil in a Woodpile, Anna Fermin's Trigger Gospel, Reckless Kelly and more. Jeff 'doc' Bella has been a bass-for-hire for more than 20 years with all manner of musical acts, from jazz, rock, country and more. he has toured all over the United States & abroad to entertain audiences and has warmed the stage for Cracker and 10,000 Maniacs. The Real Gone's approach to classic instrumentals leaves listeners goners for life … transported in time. We look forward to making your event a Real Goner.
The Real Gone is one of the few true surf rock bands in the area. The tones, beat, technique and attitude are of utmost importance when presenting this music. The Real Gone replicates the classic sounds of the era while bringing a youthful vigor so as not to be a parody or novelty act. Influences include: The Ventures, Link Wray, Dick Dale, The Shadows, The Sadies, Duane Eddy, The Ghastly Ones, Man Or Astro-Man … etc.