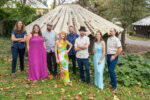 THE FUSS
The Fuss is a dynamic ska, rocksteady, and early reggae band from Washington, D.C. Their sound pays tribute to the music of 1960's Jamaica and the British Mod scene, while putting modern slant on these timeless styles. The group is comprised of 3-part female harmonies, a 3-piece horn section, and 4-piece rhythm section.
Since the band formed in 2014 and they've had the pleasure of sharing the stage with bands such as The Skatalites, The Toasters, The Pietasters, Eastern Standard Time, The Interrupters, Save Ferris, Steady 45's, and many more.
The Fuss's first full-length album "Ourselves" is now available on LP, CD, and Cassette. Visit our shop to pick-up a copy online.