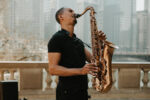 THE DERRICK TATE CONNECTION
As one of Chicago's up and coming performing artists, Derrick Tate has been a Professional Saxophonist since 2011. Throughout these years as an artist he has performed and collaborated with internationally acclaimed artists such as Solange and Amerie. He has also performed for numerous venues throughout the Chicagoland area as well as festivals and events such as Pitchfork, Ravinia Festival, Lake Meadows Jazz Festival, Hyde Park Jazz Festival, and more. Derrick continues to provide musical services throughout the U.S. and internationally for Weddings, Corporate Events, and other Special Occasions. High School Music Director from Chicago, IL.  been playing professionally since 2010 and have been teaching and directing high school bands since 2016.
With a firm belief in the study and practical application of the performing arts, Derrick Tate has also become a high school band director and private educator to pass on the necessary skills and techniques to the next generation. He has professionally taught Jazz, R&B, Classical, Rock, and Pop music since 2016.
As a graduate of Berklee College of Music with a degree in Music Education, my philosophy is for the next generation to be able to come to regard music and its fundamentals as a tool and direct representation of their everyday purpose. With a focus in modern music such as Jazz, R&B, and Soul, I strive not only perform to the best of my abilities, but ti also be a model for the next generation of musicians to come. I believe that music will always represent something unique in the lives of others, and that through education and exposure, the arts will stay relevant and retain purpose for a lifetime to come.