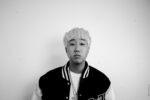 TED PARK
Ted Park is an out the mud Asian American success story. Born December 4, 1994 in Madison WI to immigrant parents, Ted grew up in humble beginnings. After dropping out of high school and taking a bus to New York to pursue his dream, Ted wound up in Canarsie Brooklyn living in his friends basement, then Harlem on 116th and 5th during his come up. Ted focused on music surrounded by love, loyalty, and new family who wanted to see him win. 
 Ted caught viral success in 2016 with Hello (Who is this) which hit the Top 10 on Spotify & Billboards US Viral Chart landing a single deal with UMG / Capitol France. Another viral moment followed in 2017 with "Me Love" catching the eye of Korean American superstar Jay Park, leading to Ted signing with Jay's H1ghr Music in 2018. Opening for Dumbfoundead, H1ghr and Jay on tours, the Genius BBQ with 2 Chainz and Jack Harlow, being pH-1's surprise guest at Hiphop Playa Festival while releasing a massive output of songs with features from Jay, Jessi and more Ted built a loyal and authentic fanbase. 
 Ted, now an independent artist in 2023 has racked up 20 million + streams and received praise from major media outlets Complex, Billboard, and Rolling Stone to name a few. In 2022 he performed the NBA halftime show at the LA Clippers, SXSW, and multiple cities on his Mini US tour. Now 2023 after opening for pH-1's North America Tour, Ted is getting ready to release multiple albums and his first North America full headline tour before summer.