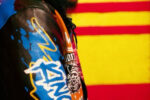 TACO
Passion. Hunger. Determined. Consistent. Just a few words that might come to mind when you hear Chicago Rapper "Taco". Hailing from Chicago's now defunct LeClaire Courts housing projects, Taco realized his love for music early on. After receiving inspirational feedback, from an open mic performance, Taco began his rapping career at the age of 14. Influenced by a variety of hip hop artists in the game such as J.Cole, T.I, Meek Mill, Kendrick Lamar and more. He started Battle rapping during lunch period in high school and never losing made him want to compete in other areas of music such as creating full length songs.
Pouring out personal thoughts and feelings that many fans can relate to, Taco released his first mixtape "The Truth" January 27, 2015 on datpiff.com for free. After receiving positive feedback with over 60,000 views from his first mixtape he began working on his next project "The Truth 2" released May 16, 2016 which also was a great success he decided to put this project on a variety of digital streaming outlets such as iTunes, Apple Music, Spotify, Tidal, Google play and More!
 "Taco" has been on a mission to share his craft with the world. With a hunger for music, unique style, and versatility in hip-hop, he released his 2017 Album titled "Hot Winter", which was both captivating and relatable. Highlighting issues plaguing the city of Chicago, such as gun violence and growing up with no father in a poverty environment. You can also grab his other projects which are an EP titled "Never Doubt Me" released November of 2018 and a Joint Album with another Chicago artist G.S titled "Masterpiece" released in December of 2019 on those outlets as well.
Taco had a successful 2018/2019 having 11 consecutive Sold Out Concerts in Chicago in which he Headlined at major venues such as Wire, Bottom Lounge, Reggies, Subterranean, Bourbon on Division ,Club Red , JC Martini Club and even having a concert on the "Summers of George" Boat. Taco also Sold Out his dream venue "House Of Blues" (Chicago) in 2019 with 1300 in attendance. Taco is also set to release a New Album titled "Underrated" New Years Day 2021 exclusively on TacoMusicOfficial.com with the partnership deal he inked with Sony (The Orchard) in late 2020 you can expect some BIG things to come in the future.