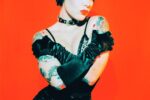 SUZI MOON
The unstoppable SUZI MOON comes thundering back with her debut solo EP Call the Shots, a powerful clutch of high impact songs which reaffirm her status as one of punk rock's most vibrant performers! With a stellar rock & roll pedigree reaching back to when the then 15-year-old MOON joined her sister's famed punk band, CIVET, the singer-songwriter has followed through with songs that show her incredible growth. Recording two albums for Hellcat Records and touring with the likes of SOCIAL DISTORTION, DROPKICK MURPHYS, and FLOGGING MOLLY (all before she turned 21), MOON established herself as a ferocious punk truth-teller with both a distinctive personal style and a fiercely untamed stage presence. After CIVET went on hiatus, MOON formed TURBULENT HEARTS, a high-intensity trio that quickly gained popularity in their hometown Los Angeles scene and earned followings in the US and Europe, playing such high-stakes settings as the Rebellion Festival and Punk Rock Bowling.
The restless, boundlessly creative MOON next co-founded unique
garage/punk/stoner female power trio L.A. MACHINA. The group almost immediately issued a memorable EP for Alternative Tentacles before abruptly flaming out in late 2020. Undeterred, MOON set about crafting the groundbreaking songs which comprise Call the Shots, and was in the recording studio just months later. Set for a May 2021 release on Pirates Press Records, Call the Shots is classic MOON: hard hitting, dynamic and thunderingly expressive, the perfect artistic antidote for today's uncertain climate. A daringly mesmerizing performer and bold, intuitive, composer, SUZI MOON consistently delivers an appealing, high-velocity authenticity that is hers alone.