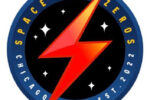 SPACE AGE ZEROS
DROP THE HERO AND GET WITH THE ZERO
Space Age Zeros are a Chicago area power pop / pop punk hybrid. The band is made up of many scene veterans from bands such as Naked Raygun, the Bomb, Bollweevils, Oblivion, I Love Rich, Urban Idols and more. 
 Recommended for fans of Screeching Weasel, Material Issue, Ramones and Cheap Trick.