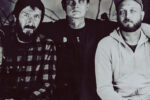 S. S. WEB
Hailing from the booze-soaked, frozen tundra of Milwaukee, Wisconsin, S.S. Web fuses elements of Folk, Punk, Americana, Rock, and Country into a style all their own.
For the better part of 7 years S.S. Web has been plying their trade, honing their skills as musicians and songwriters. They self released their debut album, "North", in 2011 and released it's follow up, "1933", in 2013 through Wayward Parade Records. The following two releases, both in 2014, included their third full-length album, "Skulls Will Sink", and a self-titled split 7″ vinyl with Ando Ehlers.
Taking to the road like marauding pirates take to the sea S.S. Web has played countless shows from coast to coast, bringing the party and a glorious racket wherever they go, making new fans and friends at every stop.
The tides may change, but the ship will always sail…