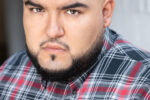 RUBEN RAMIREZ
Ruben "Baby Horchata" Ramirez is a Mexican-American Actor, Writer, Director, Stand-up Comedian, and Producer. He was born in Joliet, Illinois on July 6, 1995.
Being known for his funny character in the stand up world, he takes pride in his ability to be a bad guy in front of the cameras. Being an Actor and Director has helped his writing skills in both film and when writing material for his comedy shows. He was born and raised in Joliet until he moved to central Illinois when he was 14. He dropped out of Joliet Central High School before transferring to Pekin Community High School where he found his love for the arts.
During the Pandemic he started his own film company called Starpower Film Company (a sister company of Starpower The Elites) with Mario Canon. 2021 has been a good year as his company won a Best Lighting Award, Best Actor (2x), People's Choice, and Best Director award. On top of films, he has directed rappers Mario Canon, Montana of 300, and Twista.