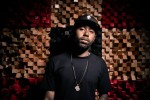 RO SPIT
It's one thing to make a name; it's a totally different thing to make a lane. Hip hop artists have always been regional, the same way that NASCAR drivers generally hail from the southern locations; sure you can blossom from anywhere, but it just doesn't resonate as well. So how do you get your message out to the world when their ears are pointed elsewhere? If you are Ro Spit you become a champion at home, then you conquer the world. Being crowned at home however, isn't automatic; it requires the synergy of the community and fine tuning the homegrown nuances of hip-hop music that Ro Spit has bopped to for years.
The multi-talented Roland "Ro Spit" Coit started at the roots deejaying parties across the Metro Detroit area including the iconic St. Andrews/The Shelter, eventually grasping the sound hip hop crowds love to hear. Amidst his deejay sets, Coit wrote rhymes as well, a testament to his insatiable work ethic. His launch-pad arrived in the form of his cousin, One Be Lo, whom he connected with through Binary Star. A duo project with long time friend Terron "Illite" Calmese entitled The Forgotten Chosen would ensue.
In an effort to present his material Coit became a ubiquitous performer, rocking mics at venues across Metro Detroit area, Chicago, and Ohio. He vastly expanded his fandom eventually opening national acts including The Clipse, Wale, and Talib Kweli as well as performing with seasoned veterans such as DJ Premier and Slum Village.
From a kid growing up in Pontiac, Michigan imitating his favorite emcees as a kid with his cousin, to a national performer Ro Spit has helped shoulder the re-branding of Michigan hip hop. From rapping with dry cleaning hangers to holding authentic microphones, Ro Spit saw his future before he knew it. At home in Michigan he's referred to as a "Champion" a tagline his highly acclaimed sneaker boutique "Burn Rubber" coined, looks like the title fits.
Ro Spit has ascended methodically with his most current release The OH S#!T Project, sponsored by Acapulco Gold x Burn Rubber available for download. Notable features include Bun B, Big Sean, Monica Blaire, Curtains, Marvwon, and Stretch Money. Continuing his hard-working routine, Ro Spit has multiple projects to follow. Look for a collaboration EP with 14KT as well as The Closest Thing to Him produced by Koen (Blocnotes) the first quarter of 2010. The album is produced by Koen (Blocnotes, Netherlands) and features Black Milk, Fat Ray, Fatt Father, Marvwon, Guilty Simpson, Illite, One Be Lo, Monica Blaire, Elzhi and more.