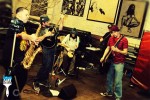 RIVER WATER TRIBE
Well Jacob Green had been playing the Milwaukee music scene for just about 2 years with band such as ' Green & The Grit' a rockin' blues party band & also with 'Infinite Nature' a Folk Reggae slight Hip Hop beatnik band, and as a solo Blues/Roots artist. Mr. Green had established himself & gotten some recognition but not he we felt he deserved.
Tony C. never really considered himself a musician, but little did he know how music would be a huge part of his world. Tony met Jacob out in Colorado & they jammed ben harper & grateful dead songs, along with Mr. Green originals. Then tony only played djimbe, but with the influences of street musicians on Pearl St. in Boulder, losing your face in the backwoods mountains & seeing some of the best local mountain bluegrass in town! By the time Tony hitched a ride back with Mr. Green to Milwaukee, Tony had had his mind set on a Washboard.
Josh Varichak had already jammed with Jacob Green as a drummer for Green & The Grit & Mr. Green was a back up bass player for Josh's hardrock band; Billy Dreamer. Josh joined RWT in Feb. of '11, with punk intensity & lack of being able to stay still Josh brings a lot of energy & momentum as he picks out the bass!
The River Water Tribe ultimately formed in August of 2010 when Jacob Green had returned back from Colorado with Tony & Dom was just itching to jam. Later Josh joined the band in Feb of 2011 and then Robeto Sharon on Saxophone & Andy Apricot on Accordion.The tribe then became a collective of musicians pickin' up members across the country from Milwaukee to Colorado including Eric Solveson on Lead Guitar & Noah Koerner on Violin.