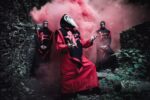 PROFANATICA
One of the first wave of American black metal bands, PROFANATICA have purveyed primeval blasphemy on nigh for three decades, vomiting forth the most vulgar strain of black metal ejaculate. Led by founder Paul Ledney, the trio desecrate everything sacred with a ferocious stream of chainsaw guitars and relentless battery. PROFANATICA walk as kings in the murky depths of the black metal scene.
In 1990, Aragon Amori, Paul Ledney, and Brett Makowski departed INCANTATION due to artistic differences, leading to the birth of PROFANATICA. Influenced by such classic cults as VENOM, NECROVORE, SARCOFAGO, and BATHORY, the unholy trinity together had a passion to create raw and sacrilegious Black Metal. The band has since released four full-lengths and over a dozen demos, splits, and compilations. However, their story is not one without controversy as the masters for what was supposed to be their first full-length, initially titled 'The Raping of the Virgin Mary,' were unfortunately destroyed in the studio, although, there are conflicting stories about what really happened. The band parted ways until Ledney resurrected PROFANATICA with two new members in 2001. Despite dropping their first demo in 1990, their long overdue debut full-length, 'Profanatitas de Domonatia,' was released 17 years after the band's conception.

In 2019, PROFANATICA formed an unholy union with Season of Mist and released 'Rotting Incarnation of God,' which was nothing short of blasphemous perversions, sacrilegious incantations, and furious, unrelenting black metal. The kings of USBM are back to bless you with another assault of unholy hellfirenow in 2023 with another nasty and perverse offering.