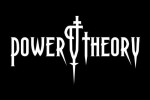 POWER THEORY
Power Theory was created in 2007 by Bob "BB" Ballinger with the intention to form a True Metal band with a mix of the NWOBHM, 80's German Power Metal, and some elements of early thrash
Dave Santini joined forces in October 2008 as lead vocalist, and through some line-up changes and growing pains, momentum picked up in early 2009 , and we completed writing, arranging, and recording the Demo/EP "Metal Forever" with Jason Grosse at 1021 Studios in Tullytown, PA.
The band continued playing live shows with Steve Sabo as drummer and bassist/ member Jason Tete and started to record an 11 song full length debut album at 1021 Studios as well, in between gigs which was completed in June 2010.
Ballinger decided in July 2010 to pursue hiring Legendary Producer and Audio Engineer Achim Koehler (Sacred Steel, Primal Fear, Sinner, Brainstorm) to Master the debut album and acquire the right professional sound. Achim agreed and did a phenomenal job.
In mid-September 2010, armed with promotional copies of "Out of the Ashes, Into the Fire" Power Theory sought a record deal. The band was soon signed to a 2 year deal on Pure Steel Records- Germany, as of February 1st, 2011.
Pure Steel Records handsomely re-packaged the CD and released the album worldwide on April 29th, 2011 at annual The "Keep it True" festival in Germany.
Up next we started writing, and arranging and began recording sessions for a full length-follow up CD titled "An Axe to Grind" with a new improved veteran Metal back-line consisting of Jay Pekala on bass and newly added permanent member/drummer Lorin Savadove, a veteran of the Philly Metal Scene, who was recommended by his friend King Fowley (Deceased, October 31)
Power Theory next commissioned the world famous artist Eliran Kantor (Testament, Gwar, Atheist) to create the cover artwork for their second release "An Axe to Grind"
Pure Steel Records released "An Axe to Grind" on June 29th, 2012 at Warriors of Metal Festival V – Open Air in Pataskala, Ohio at which the band performed a live set along with Manilla Road, Twisted Tower Dire, Helstar, Vindicator, Lazarus AD, Exxplorer, and Sinister Realm to name a few.
A recent highlight for the band is a triumphant return to Philadelphia to open for legendary German Metal Bands Accept and Kreator on September 6th, 2012 to a packed house.
In 2013 the band has begun recording our 3rd full length release in February with Singe Bullet Theory's Matt DiFabio as engineer and producer, Peter Baltes of Accept as Executive producer, and Carlos Alveraz of ShadowDance as drum mix engineer. Cover artwork has been completed by the amazingly talented artist Timo Weurz (www.timoweurz.com).
In May of 2013 the band made some line-up changes after amicably departing with Vocalist Dave Santini over musical differences and have added Jeff Rose (Livesay, Present Darkness) from NYC on Lead Vocals, and Nygil Hoch on lead/rhythm guitar, and Alan D'Angelo (Livesay, Sleepy Hollow) on bass.The band is finishing the new album and ready to return to Warriors of Metal VI on June 29th 2013 to showcase the new line-up live. In the fall they will be direct support on the Masters of Metal Tour: Vicious Rumors, Leather Wolf, and Seven Witches starting 10/3/13 in out home base city Philadelphia, PA 10/03/13.