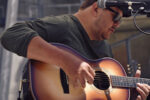 PIERCE CRASK
Chicago-based singer-songwriter Pierce Crask, accompanied by his guitar and harmonica, and drawing from influences such as Townes Van Zandt, Steve Earle, John Prine, Bob Dylan, Greg Brown, and Chris Smither has been entertaining audiences professionally since 1999.
In addition to folk, country, and blues, Pierce's love of rock and roll acts such as Chuck Berry, The Rolling Stones, The Allman Brothers, and the Grateful Dead led him to form his band, The Falling Martins, with songwriter/bassist Rich Wooten and pianist Paul Tervydis in 2001. To date, the band has released six albums: Falling Martins(2004), The Newest Ghost Town(2005), Nostalgia Train(2006), Live at The Old Rock House(2008), Shining Bright(2009), and Highway 61 Northbound Blues(2012). Critics said: "Pierce Crask hits the lyrical nail on the head"(Playback STL), "This is an extraordinary band producing elegant roots rock tinged with blues and country, with slide guitar and imaginative keys"(Ruta 66 Magazine in Spain) and "Pierce Crask may very well be this town's Randy Newman"(Riverfront Times).
Pierce released his debut solo album, The Road To Millstadt, in 2007, and the follow-up Black Label in 2008. 2012 saw the release of Live at The Shaved Duck to great fan and audience response.
It was that same great response to his instrumental compositions that lead Pierce to record The Pierce Crask Instrumental EP in 2015. it features Pierce on 6 string, 12 string, nylon string and resonator guitar on 6 original tracks and a cover of The Beatles' Norwegian Wood.
Pierce's most recent effort is a self-titled 5 song solo EP co-produced with R.Scott Bryan (Sheryl Crow, Allman-Betts Band), and a new full-length album is in the works for early 2021.
Pierce plays about 300 dates a year, either solo or with the band, in all types of settings, from living rooms to festivals.