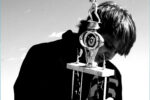 PETITE LEAGUE
Living together in famed Syracuse house venue Scarier Dome hosting shows for touring bands, producing live video sessions, starting a screen printing business while also learning the ins-and-outs of self-recording and releasing records was the foundational stepping stone upon which Petite League was created.
Lorenzo Gillis Cook, songwriter and composer, along with drummer Henry Schoonmaker, came out of the gates swinging with their signature infectious lo-fi power pop releasing their two first records before graduating from college that same year. Petite League's melodic sun kissed brand of indie rock started the buzz right away with some immediate industry, streaming, and publication recognition which helped propel the band forward from the jump.
The band continued to shape itself into a staple of the New York indie rock scene as the band moved to Queens in 2016 enlisting the help of other ex-Scarier Dome residents Adam Greenberg and Kevin McCallum as part of the live band. The DIY mindset of operating Scarier Dome is still the backbone of what Petite League runs on to this day as they continue to release music prolifically, cultivate their online presence, and tour throughout the United States.