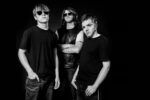 PETE'S DIARY
Pete's Diary is a rock trio from Chicago that formed in mid-2021. Their debut EP, All Screwed Up, is available on all music platforms, and their first full-length album, produced by Keith Nelson, will release in 2024. The trio includes Mac McRae on lead vocals and bass and Ryan "Rocky" Johnson on drums.
Front man, Peter Dankelson, is known for his guitar playing and inspirational story. He was featured in the May 2023 issues of Guitar World Magazine and has performed with L.A Guns, Joe Bonamassa, Tyler Bryant, Jared James Nichols, Dirty Honey, Orianthi, and Buckcherry.
With more than 800k social media followers worldwide, Pete's Diary is bringing the grittiness of rock and roll to future generations.