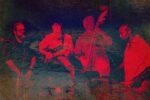 PAUL ABELLA TRIO
The Paul Abella Trio fuses Pop melodies, Jazz harmonies, Brazilian, Afro-Cuban and Funk rhythms, jammy improvisations and Punk attitude.
We sound like little else.
Sometimes we're a trio. More and more often, we're a quartet. But since we already paid for the website, we're sticking with the name.
Jazz guys think we're a jam band. Jam Band fanatics think we're a Jazz group.
Billy Denk plays the guitar and writes some tunes.
Chris Bernhardt plays the bass.
Preyas Roy joins us on the vibes whenever we can make it happen.
Paul Abella books the gigs and sits on a box.