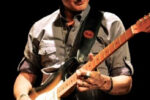 MURALI CORYELL
Murali Coryell has a story that is unique and has been growing since before he was born. Held by Hendrix, lived with Santana, dinners with Miles Davis, opened for B.B. King , played with Buddy Guy: Murali Coryell is an artist that defies category. Jim Hynes of Elmore Magazine writes in review of "Made In Texas", "With this, his ninth album, the talented guitarist and soulful vocalist Murali Coryell continues to expand his repertoire, yet his deep soul certainly remains intact." " With 'Made in Texas', Larry's son, Murali Coryell offers everything the music lover could wish for: good songs, sufficient variation and an excellent band. More than reason not to doubt his new release!… " (ESC for Rootstime.be).
Jimmy Webb , Judy Collins, BIll Evans and Joe Louis Walker, or anyone familiar with Murali Coryell has praised his talents. Acclaimed by Billboard, CNN, Rolling Stone, & The New York Times, singer/guitarist/songwriter Murali Coryell is a rising force in contemporary American music. Murali Coryell is the son of jazz guitar legend Larry Coryell and author/actress Julie Coryell and grandson of TV, film and stage actress Carol Bruce. Murali has been dazzling audiences for years with passionate and dynamic live performances that always leave them wanting more.
Murali Coryell has an affinity for languages and culture. He speaks French, Spanish, and Russian which allows him to communicate his music and message to the audience. His musical talent has brought him to places such as Europe, Russia, Lebanon, Panama, South Africa, Australia and the Caribbean.
In addition to performing his own original music, Murali has covered the songs of Sam Cooke, Al Green, Jimi Hendrix, Muddy Waters, Charles Mingus and Marvin Gaye.
The 1999 landmark recording "2120" co-produced by Marshall Chess, paid tribute to the Chess Chicago blues classics. Another milestone CD for Murali was the 2009 release "Sugar Lips" with Grammy winning producer Tom Hambridge. Murali's voice and guitar has been heard on NBC's TV show "Crossing Jordan". Murali Coryell is a fully realized artist in complete control of a voice with soul to burn and the tastiest of guitar chops. Murali Coryell has been inducted into the New York Blues Hall Of Fame and was a 2014 BMA nominee for DVD of the year. Murali Coryell is excited about his latest release "Made In Texas" and can't wait to see where this record takes him next. Murali Coryell continues to take The Blues forward and not be content to stay in one place. Tour dates, news, music, links and contact info available at http://www.muralicoryell.com/