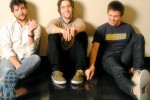 MINOR WITS
Forever friends and now band-mates, Minor Wits (out of Chicago, IL) is a three-piece wind-surf-rock n' roll band that started writing tunes together in the fall of 2011.
The band is comprised of twin brothers Brad (Percussion), Eric Nicpon (Guitar/Vocals) and Mike Nolan (Bass Guitar/Vocals).
Brad, Mike and Eric met through their local music scene in Arlington Heights, Il where every weekend they hung-out at DIY shows and venues in the city to catch bands like Spitalfield, Knockout and Fall Out Boy.
Around the ages of 13 and 15 the guys began to play in their own groups (The Local Scene, Upon Ember, Makai); they learned during that time that by writing sincere tunes, putting on energetic live shows and being themselves (on and off the stage) was what being a Chicago-based band was all about.
Fast forward 11 years, 3 college degrees and 3 full-time jobs and you have MINOR WITS.
[The name is something eric mouthed one day while studying the photographer minor white and started playing solo under the name MINOR WITS while opening for touring bands at the M-SHOP in Ames, Iowa]
In 2012 the band released their debut EP, "Bedroom Blues."
Since then the band has played all over the Chicago scene– playing great clubs like Lincoln Hall, Double Door, Subterranean and Schubas on the regular. Keeping it cool while drinking brews, enjoying each others funnies and writing new tunes is what that band is currently up-to.
The band is set to record their second effort and will be in the studio this spring. Follow along as they do what they do — come and join them for spirits at a show and download the music for free.
It will continue to be Minor Wits for a long time.