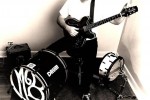 MG BAILEY
Music today seems to thrive on an artist's ability to adapt to a certain set of rules, as well as possessing a key sound. If the radio is to be used as a sample of what the public wants, it would also dictate that it should be a familiar sound. However, as with all things, sometimes there comes around an artist with his own views that just need to be heard to be believed, and M.G. Bailey definitely falls into that category.
Brought up in the south south side of Chicago, in Glenwood, to be exact, music was never as cut and dried for Bailey. Playing music since fourth grade, he got his start playing saxophone, but wisely switched to guitar, which he played in a number of local punk bands, In and Out being the most infamous of those. In about 2005, he formed Slow Moving Machines with a couple of friends, and enjoyed some success playing across the Midwest, throughout the Chicagoland area, as well as Indiana, Minnesota, Iowa, Michigan, Wisconsin and Philadelphia. They even won the Prairie State Battle of the Bands two years in a row. They also released a full length album, All Space Must Be Filled. Employing such various influences as progressive rock, punk and country, it was a truly unique album among the faceless other punk and alternative groups littering the area.
After the demise of Slow Moving Machines in 2008, he searched for a group that would never dissipate, so he started a one man band.
"I can do whatever I want, but they don't necessarily make gear for what I do." So he made his own.
I want to play rock and roll and prove that you can do whatever you want; it doesn't have to be three guys or two guys or one guy that has a group that comes out and does tours.
And so started the one man band. Using guitars modified with drum triggers, keyboards, as well as live drums that he plays while he strums his six string and sings, it's an unorthodox method but a sight to see.
I saw a guy do it in Memphis, on the streets, and I thought that one day I was gonna try to do that. He was playing blues/country stuff, but I can play punk, I can play metal…
With a sound that takes a kitchen sink approach to composition without sounding jarring, he used all of his experience as a songwriter in his other bands, and started making mini epics at his home studio.
I wanted to meet music in the middle, somewhere between the laptop musician and AC/DC. I want to create soundscapes, using delays, vocals, drums, guitars…I want to fill space with sound. And kick ass!
While the words on this page could never explain his sound or approach the way seeing it in the live setting could, it's most definitely his punk rock roots that have informed his music the most. It's the DIY ethic that has made him who he is, but he doesn't align himself with that punk background.
It's too easy for a punk rock band to get together and have a punk sound. It's not punk rock anymore. You can listen to the Ramones, and say that it sounds like shit but there's something there that you don't hear in punk bands nowadays.
And despite this approach, the music makes sense, and that's what matters most. It clearly comes from the heart, and whether you're listening to one of his songs at home on the stereo or listening to it live, it's his heart that fills the most space in the sound.