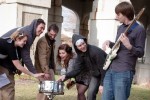 MEGASKYFISH
MEGAskyfish creates Mathy/Melodic/Michigan music. The project was created in 2006 by Randall Erno. Erno used a loop station to compose and perform as a one-man band extensively before founding the MEGAskyfish full line up. After touring Europe in 2010, he decided to bring in fresh blood to the group. First came Will Moblo – Drums, Danny Vail – Bass and Kayla Cross on vocals.
"A short, dark-eyed bundle of energy with a deep, soulful voice" – Petoskey News Review
Collectively, they created "Believe In Beauty" a DVDEP that addresses internet addiction, microwave explosions, pillow fights, synestesia and more.You can find this content @ 
http://megaskyfish.com/videos/
 . The band spent the next several months touring around Midwestern America. Eventually, Erno got hired as a guitar techniction with Eye Empire, Sevendust,and Mushroomhead. He used this time to pass out several thousands free copies of the album.
"Randall's the 3rd best guitar tech in the business (next to ours of course)" – LJ of Sevendust
"
Upon returning home Erno decided to adjust the lineup one final time. Morphing into a seven piece indie rock orchestra. Bringing in longtime friends Hanna Ford – Vocals, Bret O'Neill- Drums, Gene Gross – Bass, & Kevin Paul – Guitar/Vocals. Moblo would now play keyboard and percussion. Vail left the peaceful left the project to pursue "Costellar." Collectively they began writing a brand new electric full length, an acoustic ep, releasing a (REMIX) album of Believe In Beauty, and learning over ten hours of modern covers.
They are back to touring full time.