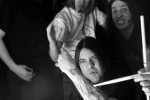 MALIGNANCY
Malignancy is a Yonkers, New York based technical death/grind band founded by Danny Nelson and Javier Velez in February of 1992. After various demo releases the band was offered a record deal with United Guttural Records in 1998. With Intrauterine Cannibalism, the first full length, released April of 1999 Malignancy made their mark on the death scene.
Motivated By Hunger, a six song EP followed in 2000. A United States tour with Mortician and Goatwhore secured the name Malignancy as a force in death metal. A few shows in Mexico and an appearance at The Brutal Assault Open Air Festival (Czech Republic) helped push the band abroad.
The band quickly started work on a new release for 2002. After being approached by Czech label Shindy, Frailty of the Human Condition split was recorded. A European tour with Czech band Godless Truth soon followed.
Cross Species Transmutation, the third UG release, showed the band's true technical direction. A successful string of gigs, festival appearances and another Euro tour in 2005 helped further Malignancy's foothold in the scene.
With the demise of United Guttural Records the band was without a label. A promo demo was written and recorded to help secure a new label deal. Willowtip Records answered the call and work began on Inhuman Grotesqueries. 2007 marked the year that Malignancy returned with a new drummer and label. They continue to redefine their sound and never conform to what is the norm.