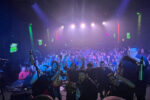 MALAFACHA
Malafacha is a Ska band with Reggae and Latin rhythms that was formed in 2003 in Pilsen's Hispanic Bohemian neighborhood in Chicago, IL. Malafacha is conformed of 8 members, Moises Bello -lead voice, Alejandro Cruz -drums, Ivan Bello -alto sax and choirs, Ezequiel Cruz -bass, Juan Abad-trombone, Armando Pescador – percussions, Roberto Carlos Tovar (Charlie) -guitar and Martin Orosco -Keyboard. All different personalities and musical tendencies between the band members has brought the band to obtain an original sound with a base of Ska, Reggae and Latin rhythms mixed with Punk, Metal, Cumbia, Rock, Disco and an endless fusion of genres that makes of Malafacha an unique band.
Malafacha takes it's name from the lyrics of "Chilanga Banda" a song written and performed by Jaime Lopez and Jose Manuel Aguilera both are a very well known as classic Spanish rock exponents in México. Cafe Tacuba later recorded this song. Malafacha is a word that doesn't really exist in the Spanish Dictionary and though some people will give it the meaning of dress badly, for us Malafacha is a style of living. For some conservative people will be thought as "bad dressed", but for us is looking our best, being original and keeping our freedom of expression, we promote that people should fight for their ideals, living free and in peace. Malafacha doesn't believe in distinction of race, doesn't respect frontiers neither repression. Malafacha is a sublime cry of liberty, describes themselves and believes everybody is a citizen of the world,
Malafacha had shared the stage with a big number of bands including some of international recognition such as Maldita Vecindad, Panteon Rococo, El Gran Silencio, Victimas del Dr. Cerebro, The Wailers, Gondwana, La Castañeda,The Toaster, Rata Blanca, Salon Victoria, Sekta Core, Genitallica, Nana Pancha, El Haragan, Banda Bostik, Kenny y los Electricos, and La Tremenda Corte. Also Malafacha toured some if the USA cities on 2009 as invited musicians for La Royal Club. Malafacha has performed in big and small cities through the USA, it does not matter where do fans live Malafacha will visit their city when they least expect it.