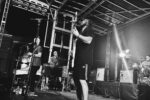 LEAVING LIFTED FEAT JADE TREMBA & JOHN BUNKLEY
Leaving Lifted is a Reggae/Rock band from Detroit. With influences of Funk, and Ska, their live set provides high energy and danceable songs. 
 In the past years, LL has performed some of the biggest shows, and festivals to date in the Michigan Reggae scene. Building their audience, they have performed multiple sold out shows statewide.