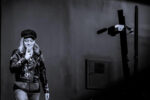 KRISTEN TOOMEY
Kristen Toomey's standup comedy career began in 2008. Since then she has performed in L.A., New York, Montreal and everywhere in between.
Her commanding stage presence and energetic, expressive and truthful style of comedy are just a few of the reasons entertainment website The A.V. Club said "Kristen Toomey is a Chicago Original".
She has appeared on NBC's Chicago Med, Kevin Hart's LOL Network, WGN Radio and NPR.