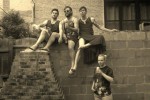 KRAYOLA
Krayola was a supergroup formed by Chicago musical legends in the 1980's. But all original members of this group left town for good or got a mean case of the deads. Safety is no accident!
But one summer day, while playing with the ducks in the Chinatown Park, grade school best friends Amanda, Ben, Brett and Jim came upon a mysterious shoe box. Inside the shoebox? A notebook filled with incredible songs! Four loosie cigarettes! And a roll of nickels!
Not wasting any time, the four friends began smoking the wet cigarinos. Between puffs, Brett slipped the roll of nickels in his jean pockets; everyone saw, but nobody said anything.
After clearing their throats, the four friends took turns singing the songs to each other. "Wow!" said a passing police officer.
What happened next is southloop history!
In conclusion, Krayolas is a very talented band that has been trying very hard for years to write new songs that might make the original Krayolas proud. Generous souls that they are, most Krayola shows are fundrazors. Come support local music. Listen to The Crayons.
(Postscript – Brett fell under the influence of marriage and became a Hawaiian mailman. Curtis stepped in to fill guitar. Curtis was chosen because of his high compatibility with the Krayola online dating profile. His similarity percentage was 67%: majority.)