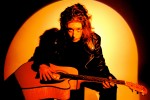 KELLY ZULLO
Cleveland based musician Kelly Zullo has been around the world playing music since the late 90's. Moving briefly to NYC, Europe & Nashville, as well as experiencing great wanderlust, this lyricist and guitarist molds the gypsy-esque mantra with philosophical bite over a riotous acoustic guitar.
Not often has a more energetic acoustic music emerged which features a female guitarist shredding acoustic guitar riffs over a percussive bang, which not only highlights a unique style, but showcases an ability to blend the drum set in a loop with the top shelf songwriting.
Recently winning the International Acoustic Music Awards for "Best Female Artist, comparisons from Ani Difranco to Kaki King are drawn.