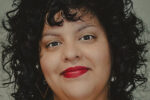 JESS MARTINEZ
Jess Martínez is a Chicago-based comedian who enjoys making audiences laugh as she genuinely tries to make sense of the world around her. She has entertained audiences across the country and was selected as one of 11 acts to perform at the 2022 Latinx Theatre Commons Comedy Carnaval.
Her love of stand-up comedy started in middle school when she became obsessed with Comedy Central's half-hour specials. She especially enjoyed Comedy Central performances by Gabriel Iglesias, Mitch Hedberg, Jim Gaffigan, Demitri Martin, Pablo Francisco, Mike Birbiglia, and Maria Bamford. She finally hit the stage herself for the first time in 2017 and graduated from both The Second City Training Center and Feminine Comique stand-up programs in 2018.
Jess is co-producer of Holiday Party, co-founder of the Latina Comedy Festival, and assistant producer at The Moth StorySLAM Chicago.