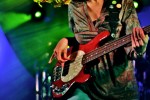 JANIS
Family Groove Company has been climbing the ranks of the Midwest music scene since 2002, conquering local venues like the Riviera Theater, Vic Theater, and Park West, and electrifying the Midwest festival circuit with regular appearances at Summer Camp Music Festival, North Coast Festival, Summerfest, and many more.  At the heartbeat of this band that blends rock, jazz, and funk is electric bassist Janis Wallin.
Nicknamed "The Mistress of Groove" by world renowned bassist, Victor Wooten, Janis has been holding down the low end for well over 1000 live shows in 36 states spanning her 15-year professional career.  Whether thundering her way through high energy rock tunes, or holding down an odd-time fusion groove, the response from musicians and fans alike is always the same: "This girl has a deep pocket, and her playing just feels good."
Janis' notable side project credits include a stint with Steve Kimock Crazy Engine and regular appearances with The Everyone Orchestra, where she holds down the groove alongside musicians like Jon Fishman (Phish), Michael Kang and Jason Hann (String Cheese Incident), Jeff Coffin (Bela Fleck/Dave Matthews Band), and Kofi Burbridge (Derek Trucks Band).
The latest project on Janis' plate is a Stevie Wonder tribute band that made a blowout debut on Halloween and is back for a holiday-time throwdown.   Assembling a conglomerate of her favorite hometown musicians, Janis & Friends will take you on a groovy ride through the funk, motown, and R&B classics of Stevie Wonder.  This show is not to be missed!