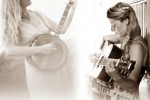 INGLISH, LOUISE & MCKINLEY
INGLISH, LOUISE & MCKINLEY is a vivacious female folk act comprised of three songwriters, all of whom are consummate musicians and powerful singers.
Over the years, these women have nurtured independent careers as touring songwriters and performers and are now coming together to present a cutting edge progressive folk act informed by the 1970s spirit of Crosby, Stills & Nash. The show is built on excellent original songwriting, packed tight with harmonies, and steeped with musical collaboration. The project began as a duo of Inglish & Louise, but has recently been fleshed out to the full trio sound with the addition of Santa Cruz songwriter Kendra McKinley.
GABRIELLE LOUISE, hailing from Boulder, Colorado, is a nationally touring troubadour noted for her poignant lyrics and lush voice. One moment folkie and ethereal, the next a smoky jazz chanteuse, Gabrielle follows her creativity through many sonic landscapes and topical themes. The through line? A gentle invitation for her listener to release their grip on the status quo. (More information at www.gabriellelouise.com.)
ERIN INGLISH, a native of the California Central Coast, plays solid Scruggs-style banjo, and her unique presentation of voice and banjo is reminiscent of the sounds of John Hartford. Erin has lived in India, Madagascar, Bulgaria and Serbia, and her songwriting reflects her worldly travels and grounding passion for sustainability and social justice (www.erininglish.com.)
KENDRA MCKINLEY – Santa Cruz, Calif. singer/songwriter Kendra McKinley combines captivating vocal melodies with intricate guitar-picking and piano accompaniment, luring in a wide range of listeners. Kendra also specializes in creating refreshingly complex harmonies on a loop pedal, layering her extensive vocal range and bringing the rowdiest crowd to a total standstill. (www.kendramckinley.com)