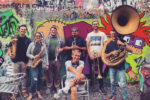 FUNK SAUCE BRASS BAND
Funk Sauce Brass Band was formed in 2019 in Normal, IL.The band consists of members playing horns and drums.
The band performs a variety of covers across pop, rock, funk, & jazz and aims to please audiences of all ages. With the power of winds, brass, and drums the band brings a powerful horn-driven sound to great songs.
The band released its first album, "Band Kids for Life" on April 29, 2022. The album celebrates the culture of band kids and the American brass band sound combined with a diverse set of covers in popular genres.
In 2021 Funk Sauce completed a 15 show tour on a mission to spread the joy of brass band music to new audiences surrounding central, IL.
Funk Sauce is embarking on our first national tour in 2022, Funk sauce is planning to support music education in our schools by working with the young brass, woodwind, and percussion musicians of today and performing shows nationwide.