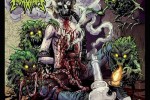 FORCED ASPHYXIATION
Fueled by pure hatred that is personified as the city of Boston, Forced Asphyxiation is a combination of four guys who've been in and out of local bands, sick of lack of dedication from others, who banded together to form a wall of brutality.
The band started in 2007 with Brian Frechette on guitar and Alex Fewell on drums. After some time playing shows with their full time vocalist, Pantera Brian parted ways, leaving his putrescent debauchery with them. After some time searching, Brian decided to take over the vocal duties alongside playing guitar, knowing no other vocalist could fill the void.
After years of time spent as a two piece band, in 2011 they completed the line up with Ryan Murphy on Bass (Soul Remnants, Valasyrka) and Tom Preziosi on Guitar (Soul Remnants, Armory).