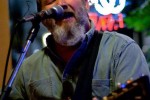 ERIC LAMBERT & FRIENDS
Eric Lambert has been pickin' and grinnin' his way into people's
hearts for over 40 years. Specializing in the fiery art of flatpicking, he has built a distinguished career writing, performing, recording, and teaching Americana music in and around Chicago, IL and beyond. Traces of rock, folk, bluegrass, country, and blues can be detected throughout his music, delivered with energy, soul, and inspiration. His voice, presence, and precision moves audiences to their feet, while his playful spirit and warm sense of joy makes people feel right at home.
Eric's music resonates the old school philosophy of the groundbreaking musicians who inspired him; music should know no boundaries. Influenced by Duane Allman and Dickey Betts at an early age, Eric discovered country and bluegrass music through the Nitty Gritty Dirt Band album, "Will the Circle Be Unbroken." Raised on Chicago's south
side, he cites diverse influences as catalysts in shaping his unique roots music sound. His original voice was crafted by blending the bluegrass approaches of Tony Rice, Clarence White, and Norman Blake with those of his main influences such as B.B. King, Bob Dylan, Jerry Garcia, and Old & In The Way.
Eric excels at every style of music he performs, moving through them with an uncanny ease and smoothness. The richness of diversity in his influences is evident in his playing and throughout his vast career, which spans 10 countries as a solo artist and as a band member. Some career highlights include playing with Virgil Kane along with Alabama and George Strait, and being a front man in bands such as Big Shoulders, Heartsfield, Valerie Smith Band, and most recently Chicago's award-winning Henhouse Prowlers, being featured on their latest album release, "Verses Chapters and Rhymes." He has also appeared in Flatpicking Guitar Magazine.
Music education continues to be a mainstay in Eric's life, fulfilling a dream and supporting his mission of helping others learn how to play the guitar, and utilize a variety of guitar styles and techniques. For the past 35 years, he has been professionally teaching music, including the art of flatpicking, which is a style he has become known for. "It is the excitement of the style that originally drew me in years ago," he shared. Eric believes teaching music is about more than just giving lessons; it should be a full musical education experience. Even further, he knows music can transform lives. His embrace of this ideal led him to teach music therapy to industrial workers for 15 years. The summer and fall of 2012 will be full of new and exciting ventures.
Some things to look forward to include a new album being recorded, his TrueFire classroom being opened to students, Eric Lambert & Friends performances, and much more! We invite you to join us on this exciting journey in person and online, and fill every day with a smile and a song.