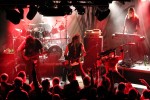 ENSLAVED
Enslaved was formed in 1991 by Ivar Bjørnson and Grutle Kjellson, and did their first demo "Yggdrasill" in the summer of 1992. Enslaved released the legendary mini album "Hordanes Land" in 1993 (this was released also as a split-CD with Emperor's s/t MLP). Enslaved's debut album came during the spring of 1994, while the historically successful second album "Frost" was released already late 1994.
"Eld" in many ways marked the opening of a horizon-widening era for the band in 1997 – the following year saw the release of "Blodhemn"; perhaps surprising some with its fury and blacker edges. "Mardraum (Beyond the Within)" was released in 2000; this aural nightmare of an album sent shock waves through the Extreme Metal scene with its experimental, innovative approach. The band followed up with "Monumension" in 2001; and again the band was shocked to see the positive response to their "no rules" approach to Extreme Metal.
Many see an important, if not the important milestone being "Below the Lights" – where the progressive yet darker Enslaved emerged – released in 2003; it presented the perfect blend of power, tradition, progressive elements and dark Psychedelia. A new line-up was put together after the recording of "Below the Lights"; introducing scene veteran Cato Bekkevold (Red Harvest founder), Ice Dale and Herbrand Larsen.
In short, Enslaved started climbing new heights with their live performances, adding strong visual elements in the shape of video art and more. The new line-up released the album "Isa" late 2004. The album put Enslaved at the very forefront of contemporary Extreme Metal; both as a recording and live artist. Enslaved received both the Norwegian Grammy and the independent Alarm Price for "Isa", topping it off with the release of acclaimed live-DVD "Return to Yggdrasill". The critically acclaimed "Ruun" was released in 2006, and received numerous great reviews from fans, magazines and websites worldwide. Www.blabbermouth.com concluded that "The metal world needs more bands this willing to throw out the rule book and go wherever their mad Muse takes them." Early 2007 Enslaved sat out on tour in USA and Canada, and "Ruun" was rewarded with another Norwegian Grammy for Best Metal Album 2006. At the end of the year, "Ruun World Tour part II" commenced all over Europe and the North-American continent.
Whilst building a reputation as one of the very finest live-acts around; there was found the time and power to create Enslaved's greatest piece in seventeen years of existence: "Vertebrae" was recorded during the first months of 2008 – then mixed by sinister mastermind Evil Joe Baresi (Tool, Queens of the Stone Age) and mastered by the legendary George Marino in Sterling Sound. Produced by Ivar Bjørnson, Herbrand Larsen and Grutle Kjellson themselves, "Vertebrae" comes across as one of the strongest album to emerge from the Extreme Metal scene: sound, songs and atmosphere marks a great leap for the band and genre as a whole.