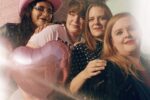 EM GRACE & THE UNDERCUTS
From experiencing ghosting, heartache and love to discovering her non linear healing journey around sexuality, self love, body neutrality, and addiction; Em Grace untangles an intimate part of herself and gifts you with a mirror.  Her deepest intention is to use her music to heal; to connect and unify communities all over the world with vulnerability.
EM GRACE & the Undercuts is an all queer band making ukulele punk, defying the perceived contrast between sweet tones and strong electric waves. Front woman, Em, pairs her electric baritone ukulele with emotionally visceral vocals and is amplified by bass (Sage), and drums (Rachael V.). 
Em Grace has independently released two EPs, "Peach Tree" and "Waves of Grief", which are on all listening platforms.

Em Grace started in 2017 as a solo project and the Undercuts joined in 2022.
We have headlined at The Golden Dagger Chicago and Burlington Bar; performed at Chicago staples Hard Rock Cafe Chicago, Reggie's Music Joint, Fruit Salad and The Second City.  In March and April we'll be making our debut at Liars Club and Subterranean. 
We've paid our dues and played at copious amounts of local comedy shows, DIY venues, bars, restaurants, professional studios, apartments, and speakeasies.