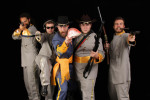 DIRTY BOURBON RIVER SHOW
In August of 2008 frontman and multi-instrumentalist Noah Adams drifted into New Orleans and quickly found himself enchanted with its wild and authentic, booming musical styles.
After recruiting New Orleans native drummer Dane "Bootsy" Schindler, they formed what would later become the Dirty Bourbon River Show, playing their first show at the end of the year under the moniker "Buck Johnson and the Hootenanny Kid."
After picking up ringleader/vocalist Charles "Big Charlie" Skinner and multi-instrumentalist Wayne Mitchell, the Dirty Bourbon River Show began to grow into an interactive multi-genre variety hour-style band. Drawing from a rich diversity of musical backgrounds, they began in American roots music and branched out into folk, rock, blues, jazz, latin, gypsy, circus, and traditional New Orleans styles.
The Dirty Bourbon River Show made their debut at the legendary Tipitina's during homegrown night on March 11th, 2009. After picking up bassman Jimmy Williams that summer, they embarked upon their first regional tour of the south. The contagion of their whiskey-soaked New Orleans eclecticism began to spread fast. That fall they recorded their debut studio album, Volume One.
Less than a year after their homegrown debut, the Dirty Bourbon River Show headlined Tipitina's on February 5th, 2010, releasing their first full length LP.
Showing no signs of slowing down, for their second summer of touring the Dirty Bourbon River Show cut a second 30 min record called Free Love and caravaned around the south – gypsy style – giving it out for free. The contagion doubled.
That fall they finished up a 6 month burlesque residency as the house band and ringmasters of the Big Busk! – blending together a unique rock'n'roll comedia erótica variety hour heralded by the press as being a "genetically theatrical love affair." Additionally, they continued touring the surrounding area – going as far as North Carolina with the Holy Ghost Tent Revival.
The Dirty Bourbon River Show began their third year with the release of a 3rd studio album – Volume II – at the Blue Nile on Frenchmen Street in New Orleans. It was their most ambitious record yet; the already-lush orchestrations of the band began to see even more multi-instrumentalism, large vocal and horn harmonies, and an elevated level of musical interplay between the members. To support its release touring increased…
As spring turned to summer the Dirty Bourbon River Show saw the departure of Wayne Mitchell, leaving the band to pursue a career in biomathematics. New Orleans native Matt Thomas (Kirk Joseph's Backyard Groove, Something Delicious) replaced him as resident soloist, bringing to the table both tenor and baritone saxophone, along with clarinet and vocals.
Now permanently aligned as a full-time professional touring act, Dirty Bourbon spent the 2nd half of 2011 extending the reach of their show further up the Eastern Seaboard and out into the Rocky Mountains. On 11/11/11 they released their 4th studio album – The Old-Timey AfroPop Jibberish Junction – attempting to give it away for free again like Free Love. They couldn't keep enough copies on hand to quell the demands, and it had suddenly become obvious, now more than 200 shows later, that the Dirty Bourbon River Show was becoming something great…
Showing no signs of slowing down, Dirty Bourbon began the year by releasing their 5th studio album, Volume Three. To support it's release they moved all of their stuff out of the 8th ward and into a storage unit and then took to the road, touring the country for eight straight months.
The tour proved extremely successful, solidifying their circuit across the South, Southeast, Midwest, and expanding their reach further into new North Eastern territories. To cap off the year they released their 6th studio album – The Most Peculiar Thing – on December 21st at the Blue Nile in New Orleans.
The Dirty Bourbon River Show released their 7th studio album – Volume Four – in New Orleans on May 25th. Following a four month tour to promote its release (which included high profile appearances at Voodoo Festival Main Stage w/ The Cure, Bristol Rhythm and Roots Reunion, and the 69th Annual Radio and Television Correspondents Dinner in Washington, DC), the Dirty Bourbon boys closed out the year by releasing their 8th studio album – Accordion Anthology – on the New Years Eve at the Maison on Frenchmen Street in New Orleans, fulfilling their goal of releasing 2 albums a year for their first four full years as a band.
The Dirty Bourbon River Show is taking 2014 by storm, with many high-profile appearances already scheduled, including the 2014 New Orleans Jazz and Heritage Festival.