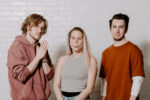 DEFINITELY MAYBE
Definitely Maybe is what you get when a state champion drum major (Sawyer, bass/production), a jazz and blues guitar player (Ian, guitar), and a 2000s-emo shower singer (Courtney, lead vocalist and writer) get together and make music. With a refreshing take on Pop Punk / Rock anthems, Courtney pulls raw and relatable words from broken friendships, hypocrisy she experienced growing up in the church, and her battles with mental health, including losing her sister to suicide in 2020. The catchy hooks and gritty guitar tones contrast the thoughtful themes inside each song, and the storytelling provides a vivid picture for the listeners to get lost in.
As a young band out of Chicago, only one year old, they just released their debut EP "Better Off Undone" streaming everywhere. The tracklist includes nostalgic and dark emo revival "One Thing," moody and driving "Same Old Same," a bop-your-head summer love song called "You + Me," and a classic pop punk breakup anthem, "Silly Song."
Definitely Maybe is only just getting started.