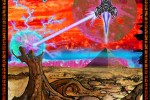 DEEPSPACEPILOTS
Deepspacepilots: heavy rock with an almost sub-underground/early
stoner Sub Pop vibe, this Chicago-based band blends a unique style of
psychedelic, stoner rock with elements of doom, ambient, and early 90s
British-shoegaze. Unlike a lot of bands in this same subgenre of music
who yell and scream over the riffs, deepspacepilots employ a melodic,
and, at times hypnotic-style of lead vocals that aren't paired up too
often with music this heavy. Add that to the band's wall-of-sound
rhythm section and you get a mix of heavy guitar, bass, and drums with
vocals that at times seem to float on top of the music. The band has
released two self-titled albums and is working on new material in the
studio for an upcoming release.
"Southside Veterans of Intergalactic Ear-Bleeding Ambient/Psychedelic
Rock Excursions…" -Renato Brujo
"If you consider yourselves fans of either stoner, doom or psych and
you like a very small touch of ambient in your listenings then you
HAVE TO check this out." -Stoned Sun Vibrations.
"…all killer/no filler heavy with an instantaneous-catchiness
trip…" –deathstar330.blogspot.com